搜索引擎越来越注重评论对商品及购物网站的影响,而好的评论显示在搜索引擎,能够很好地吸引客户的兴趣,关注及购买的前提,是有用户来访问您的网站,并对您的商品内容产生兴趣。
而这款插件可以帮助您的产品数据,面包碎片导航,评论星级,组织,分类等都可以更好地显现在搜索引擎的搜索结果页面。

Improve your website appearance in organic search. Use easily adjustable rich snippets for highlighting any site information you need. Significantly increase your visibility with microdata and draw highly targeted traffic to your online store.

Use various types of rich snippets
Enhance your visibility in search results
Get more targeted traffic


Why are rich snippets great for Ecommerce SEO?


| | |
| --- | --- |
| Before | After |
| | |
Test your website appearance in organic search here
How will the extension
improve your website organic results?
Rich snippets are magento structured data, which are used to report users about additional website information in organic search. Displaying more detailed info in search results lets you segment customers in advance and draw only relevant traffic to your site. Also according to Google, links with rich snippets have higher positions in search results. Summing this info you get very high chances that users will click on your site. In fact click through rate for such links is 20-30% higher.

Below you'll find 5 types of Rich Snippets, which are the most necessary for an E-commerce site. Click on the tabs for details:


Show product value to users without making them visit your site. Potential customer will be able to see price and stock status on SERP, which will allow taking click decision faster and help to stand out from the competition.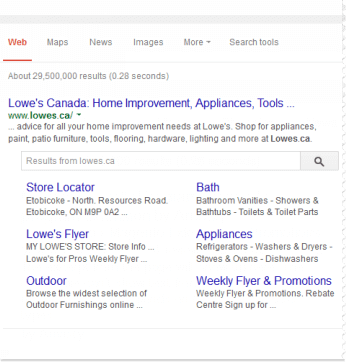 Search input box for home page in Google search results
Thanks to our extension you can add improved sitelinks search box to Google search results. It will make it quite more convenient for customers to find a specific product on your store directly through your own site-search box in Google.


Note! As soon as Google uses numerous factors to determine the box display such as on-site information and various types of navigational queries, only Google decides when and which sites will display search box.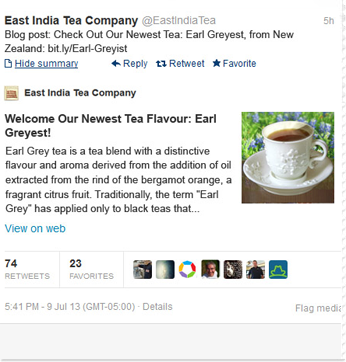 Twitter summary cards support
Twitter cards is an excellent way to present your products on Twitter. Show extra information about products in tweets such as image and description or add a custom text field. Simply configure extension settings, post a tweet with the url to your product and Twitter will show additional product info to your followers. This is a great opportunity to use social media as a free promotional tool.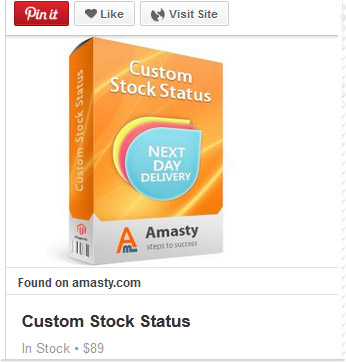 Rich Pins support• Price + availability + product url

Have you ever tried to promote your products on Pinterest? Now it's a good time to start with Rich Pins support. Post products and your followers will be able to see the price, stock availability and product url. As a bonus you will also get free price notifications alerting pinners that you've dropped the price.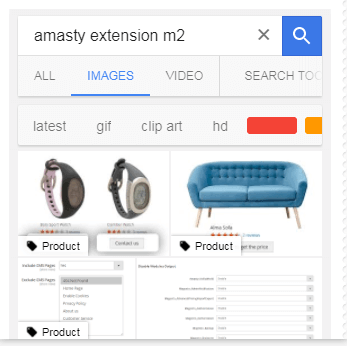 NEW! Google Image Search Badges
Due to Rich Snippets extension, you can easily markup your products. Make your products more eye-catching in the Google search results, marking them with the necessary data. The products will appear in the search results with engaging badges for your customers' better shopping experience.



---
How the extension looks like
on the back end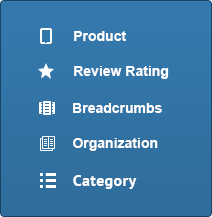 There are 5 rich snippet types to configure - product, review rating, breadcrumbs, category and organization. Easily set up rich snippets in Magento back end to attract visitors to the front end. Apply one of the extensions with a high costs-value ratio, this means you'll achieve greater results spending less effort.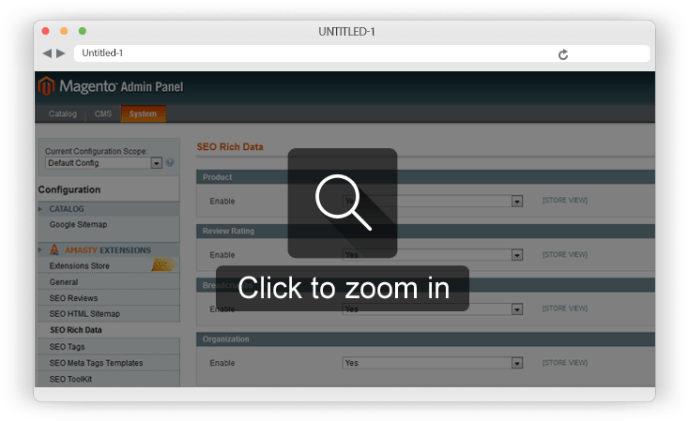 New! Now you can add Magento structured data - rich snippets to highlight information on your landing pages. Show summary products rating and the most attractive product price on the bottom of the landing page.


Boost your conversion rate
Raise your brand awareness


V1.4.10

ZHENRANG-GoogleRichSnippets-1.4.10-CE.zip
(2.83 MB, 下载次数: 264, 售价: 70 元宝)